Columbus artist, Nikolaos Hulme art featured at ENGIE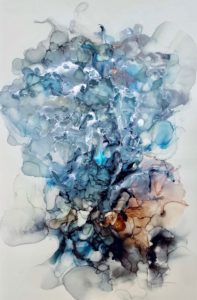 COLUMBUS, Ohio – Nikolaos Hulme, local visual artist, has been selected by ENGIE to display his artwork in the ENGIE suite in McCracken Power Plant on The Ohio State University's Columbus campus.
Fundamentally self-taught, Hulme finds inspiration from his life to create an elaborate experience within his many works of art. His recent work explores a type of order within chaos and the persistent struggle between light and dark.
Hulme's iridescent work displayed at ENGIE on campus are constructed using gouache and watercolor. Each piece is dynamic and reflective of the light available in the space, bringing new life to the collection as it is moved from location to location.
"Experimenting with pareidolia and the influence of light, I hope to tap into the observers psyche while inviting the use of their imagination. We are pioneers of exploration and knowledge is nothing without imagination," says Hulme.
Hulme's work will be on display from March to June 2020.
###
Ohio State Energy Partners is a joint venture of ENGIE and Axium Infrastructure, which was selected in 2017 by Ohio State to operate, maintain and optimize the university's utility system at the more than 400-building campus in Columbus, Ohio, under a 50-year contract.