OSU alumnus and Film Studies Program Coordinator, Matt Swift art featured at ENGIE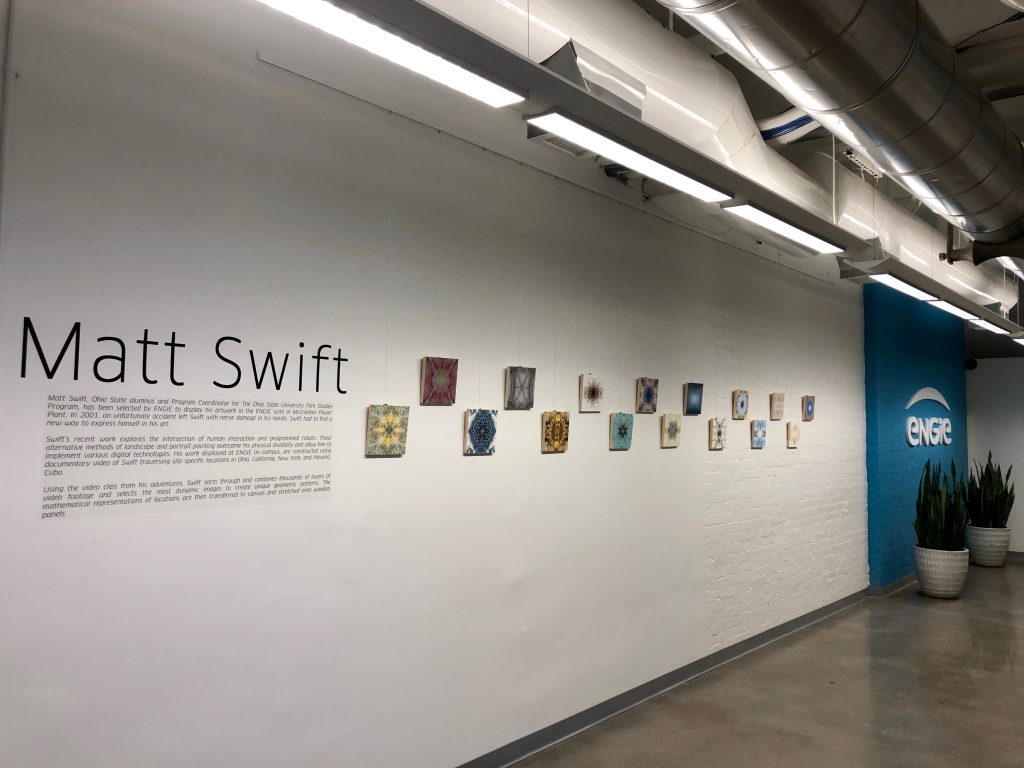 COLUMBUS, Ohio – Matt Swift, Ohio State alumnus and Program Coordinator for The Ohio State University Film Studies Program, has been selected by ENGIE to display his artwork in the ENGIE suite in McCracken Power Plant.
In 2001, an unfortunate accident left Swift with nerve damage in his hands. Swift had to find a new way to express himself in his art.
Swift's recent work explores the intersection of human interaction and programmed robots. These alternative methods of landscape and portrait painting overcome his physical disability and allow him to implement various digital technologies.
His work displayed at ENGIE on campus, are constructed using documentary video of Swift traversing site specific locations in Ohio, California, New York, and Havana, Cuba.
Using the video clips from his adventures, Swift sorts through and combines thousands of layers of video footage and selects the most dynamic images to create unique geometric patterns. The mathematical representations of locations are then transferred to canvas and stretched onto wooden panels.
"To be able to have this work displayed in the McCracken Power Plant and offices of ENGIE for the larger community of The Ohio State University is a great honor and means a lot to me personally as a form of support for my artistic practice. It is important to support local artists and I am humbled that ENGIE has chosen to support the art I create with this exhibition." says Swift.
###
Ohio State Energy Partners is a joint venture of ENGIE and Axium Infrastructure, which was selected in 2017 by Ohio State to operate, maintain and optimize the university's utility system at the more than 400-building campus in Columbus, Ohio, under a 50-year contract.