Sustainability Institute: Solar-Powered Bus Stop at Ohio Union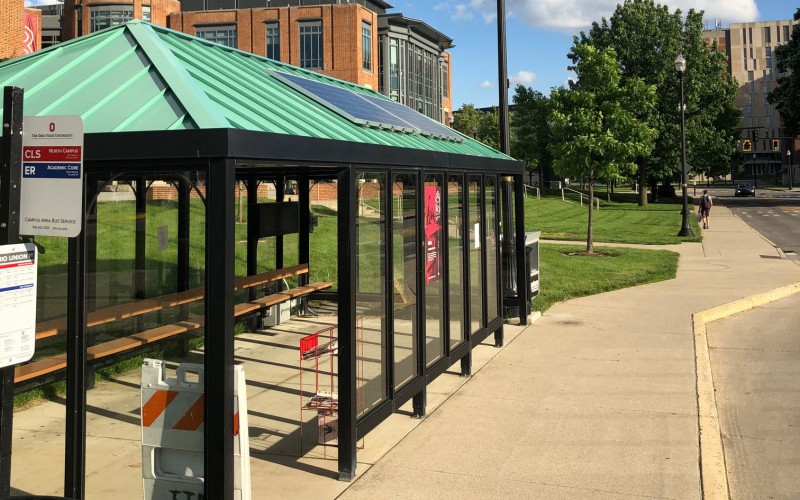 June 29, 2020
Students from the College of Engineering who were finalists in the Smart Campus Challenge and received a $20,000 grant have now completed their project and installed solar panels at the Ohio Union campus bus stop.
In Spring 2019, teams of three to five students from every Ohio State campus submitted projects that support Ohio State's sustainability goals by entering the Smart Campus Challenge, a venture capitalist-style, sustainability competition where student teams pitched their ideas to a range of CEOs and Ohio State directors, students and professors for the chance to have their dream project funded. The competition was hosted by Ohio State Energy Partners, a joint venture of ENGIE and Axium Infrastructure, selected in 2017 by Ohio State to operate, maintain and optimize the university's utility system at the more than 400-building campus in Columbus, Ohio, under a 50-year contract.
The solar panels on the bus stop power phone charging outlets and a digital information display. USB outlets are available for use beneath the benches. On the display screen, passengers will see a real-time bus map similar to what's found on the Ohio State app. The display also includes Campus Area Bus Services (CABS) service information, sustainability tips and opportunities to get involved in campus sustainability efforts.
"Ohio State prides itself on providing experiential education opportunities for our engineering students, and this is an excellent example of students applying their education to harness technology in service to the campus community," says David Tomasko, associate dean of the College of Engineering.
Transportation and Traffic Management (TTM) played a key role in coordinating transportation logistics for the project. Sean Roberts, transportation systems coordinator, oversees the real-time bus tracking system. He's been meeting with the students and ENGIE since early 2019.
"I thought the concept was really cool," Roberts said. "I like the idea of utilizing solar power for the project."
Caitlin Holley, ENGIE's program manager for capital projects, served as a project mentor and helped guide the team through project completion.
"The team wanted to complete the solar panel install project before graduation." Holley said. "This included finishing their design, looking at the budget, developing a list of materials and reaching out to solar contractors."
Kate Bartter, executive director of the Sustainability Institute, helped choose the winner. Bartter says she was very impressed by the understanding the Student Solar Bus Stop team had regarding the importance of teaching their peers about the value of renewable energy by engaging them in an out-of-the-box way.
"Judging the event was truly a high point of my career at Ohio State," Bartter said. "The passion, commitment and creativity of the student teams further reinforced my belief that our students are at the forefront of understanding and solving our global sustainability challenges."